Books for kids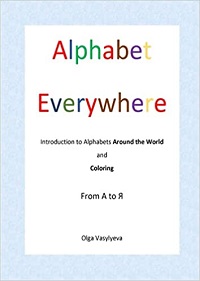 Alphabet Everywhere: Introduction to Alphabets Around the World
A. The book is the first introduction to Latin (English, Spanish, and more), Cyrillic (Ukrainian, Russian), Greek, Arabic, Hebrew, and more Alphabets.
B. Fun way to explore esthetics of the written language and to spark interest in foreign language learning.
C. Created by the parent of the child growing in a multi-language family.
D. Proofread by native speakers.
E. Challenges of different complexity to return to the book from different levels.
F. Dozens of letters and original images to color.
---